Happy Thanksgiving, everyone! This week in Pre-K we talked about what we are thankful for/what makes us really happy. We all contributed a leaf to our Thankful tree in our classroom! We also read a story "If You're Thankful and You Know It" and learned the song to go with it.
If You're Thankful and You Know It Story
If You're Thankful and You Know It Song
To develop our fine motor skills this week, we made coffee filter turkey's. We first used markers to colour the coffee filters. Then we used sponges to dab on water to blend the colours. After they dried, we glued on the turkey's body and facial features.
Even as the weather gets cooler, we will still be going outside often. This week we enjoyed spending time on the playground as well as playing with shovels, pails, dump trucks, etc. in the rocks. Thank you for continuing to dress your child for the weather!
Reminders:
No School on Monday, October 11th for Thanksgiving.
Pictures were sent home with the M/W class, orders are due by October 14th.
Picture Day for the T/TH class has been rescheduled to Thursday, November 18th.
Scholastic Book orders were sent home. You can go to scholastic.ca/rc/parentsguide for all of the information and order online at scholastic.ca/readingclub. Remember to use our class code, RC138717, so that we can earn books and activities for our classroom!
The Leadership group at the school is putting on two activities, shown below. These are completely optional! More information: Hunger Hero Socktober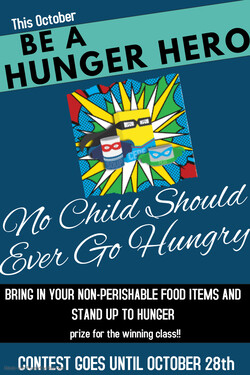 Have a wonderful, Thanksgiving long weekend and I will see everyone next week!
Mrs. Lawrence